This download bundles 2 premium templates for the FREE WooCommerce PDF Invoices & Packing Slips plugin (which can be downloaded
here
). The content of these templates (all columns and totals) can be
completely customized
to your taste with an easy to use
drag & drop customizer
– check out the screenshots below! The customizer also works with the
Professional Extension
(Proforma Invoices, Credit Notes & more!).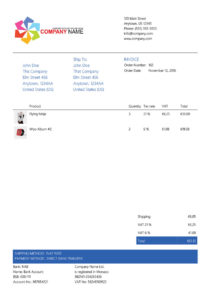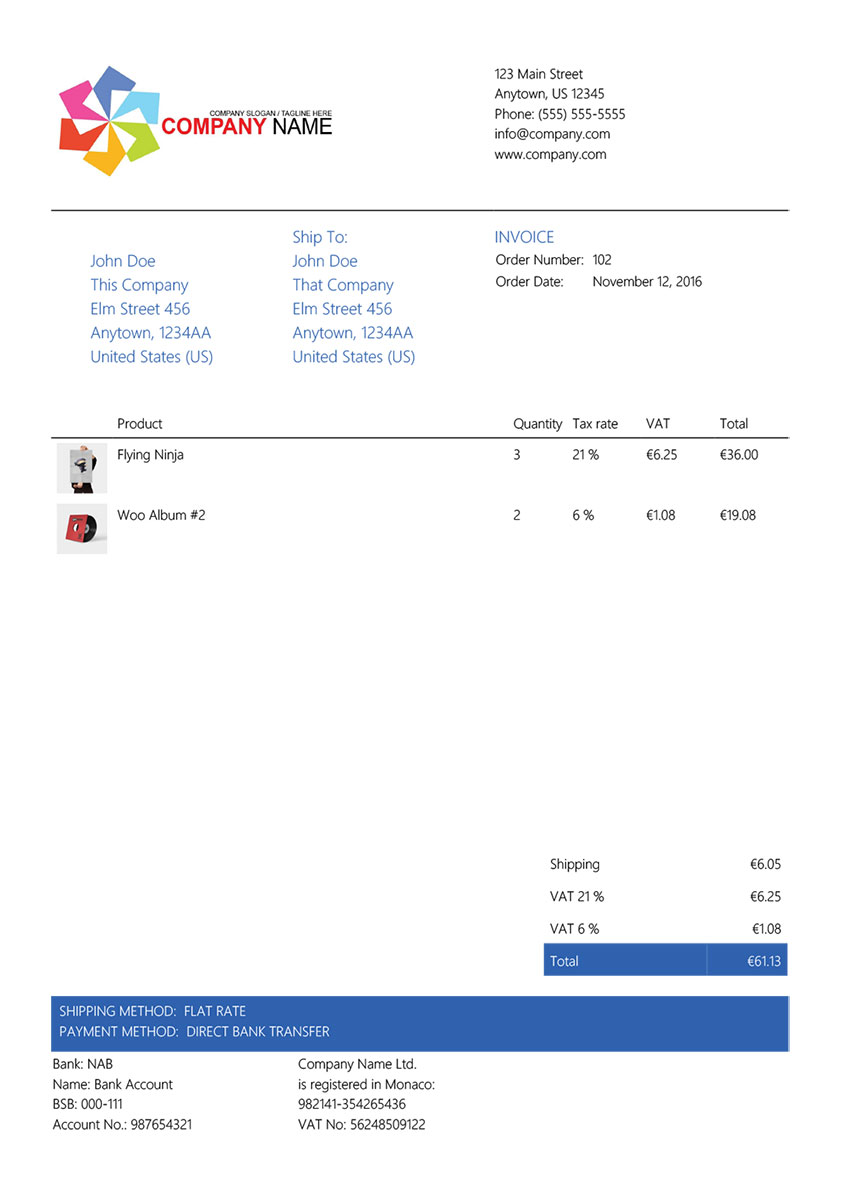 Modern
This stylish template includes 3 additional columns in the footer that can be used to display company & bank information. It also shows product thumbnails in the list of items which sets it apart from more traditional invoices & packing slips.
---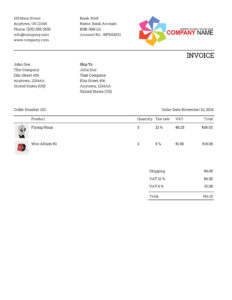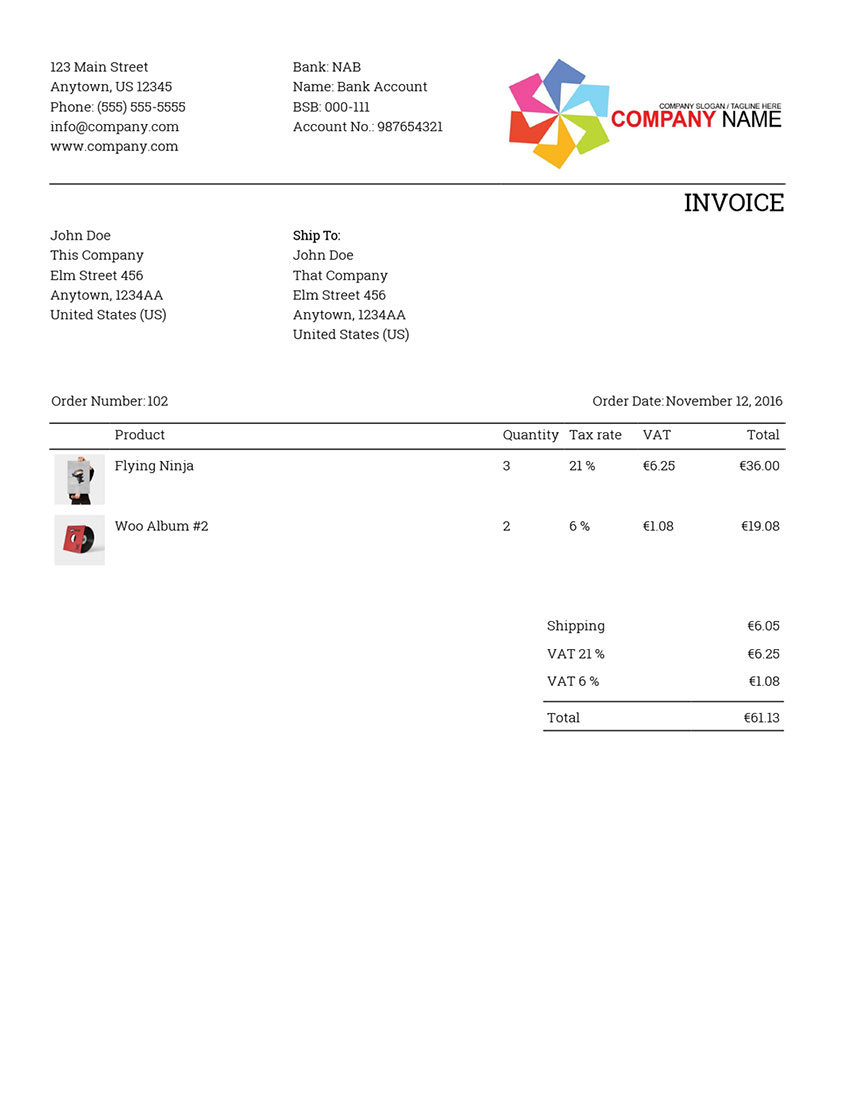 Business
Like the Modern template, this template includes additional columns: 2 extra columns in the header that can be used to display company & bank information. By default, all prices are excluding vat, and the percentage of vat is displayed for each product. Different tax classes are split out in the totals. This template aims to be as complete as possible in displaying prices and taxes to meet more strict tax regulations.
---
Customizer
These templates can be used out of the box or customized to your needs (prices including, excluding tax, additional columns, etc.).
Available columns:
Position (line number)
SKU
Thumbnail
Product (name)
Product Description (short or full)
Quantity
Product variation/item meta
Item meta (single)
Price (including/excluding tax, single/total, before/after discount)
Regular price
Discount
VAT
Tax rate (%)
Weight
Product Attribute
Custom Field (product)
Checkbox
Static text
Available totals:
Subtotal (including/excluding tax, before/after discount)
Discount (including/excluding tax)
Shipping (including/excluding tax)
Fees (including/excluding tax)
VAT/Taxes
Grand total (including/excluding tax)
Total weight of order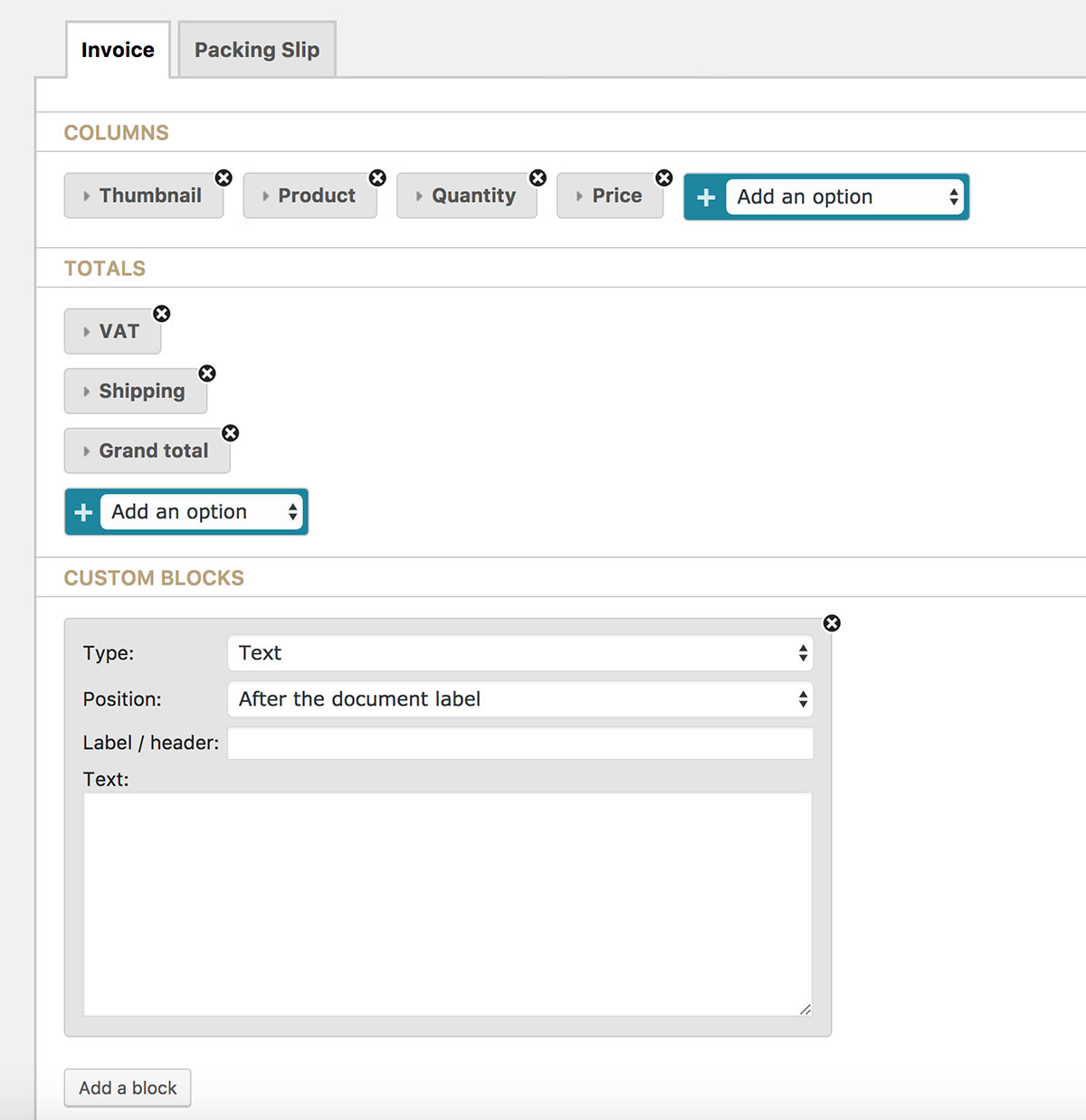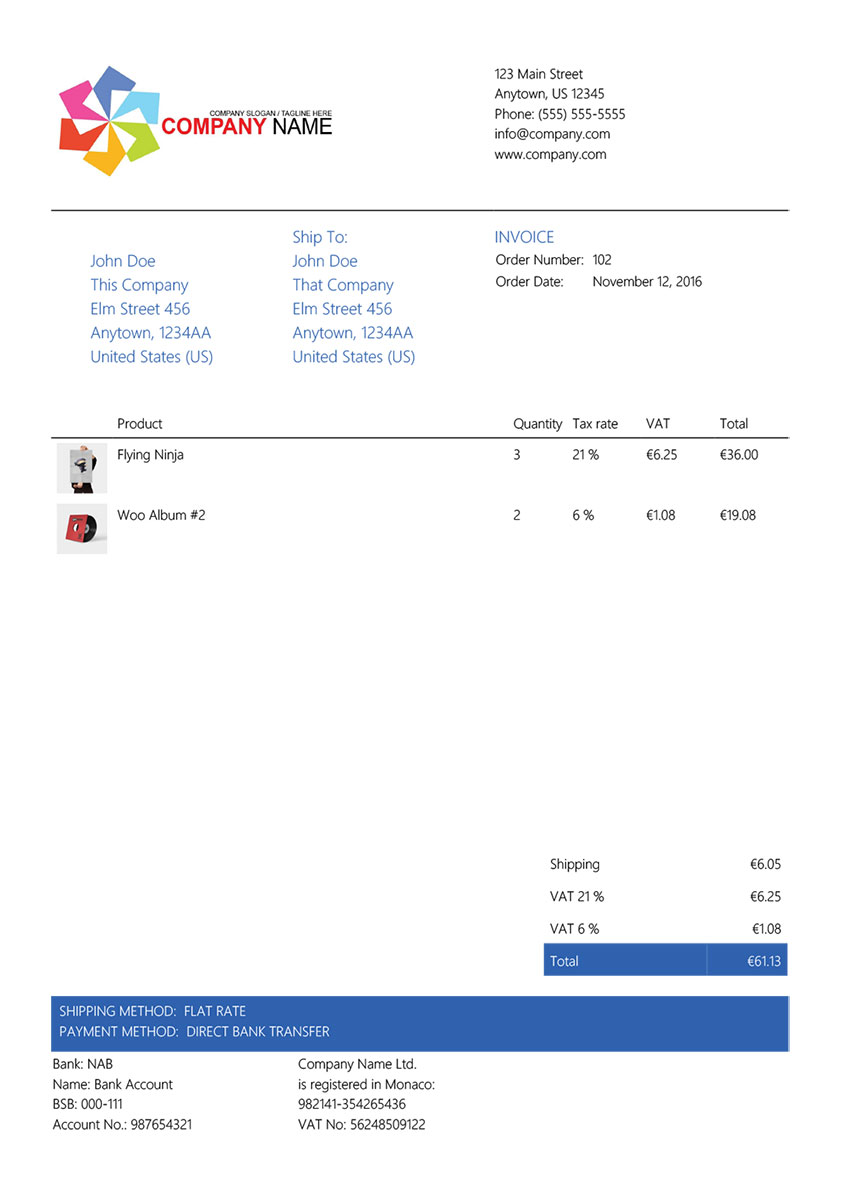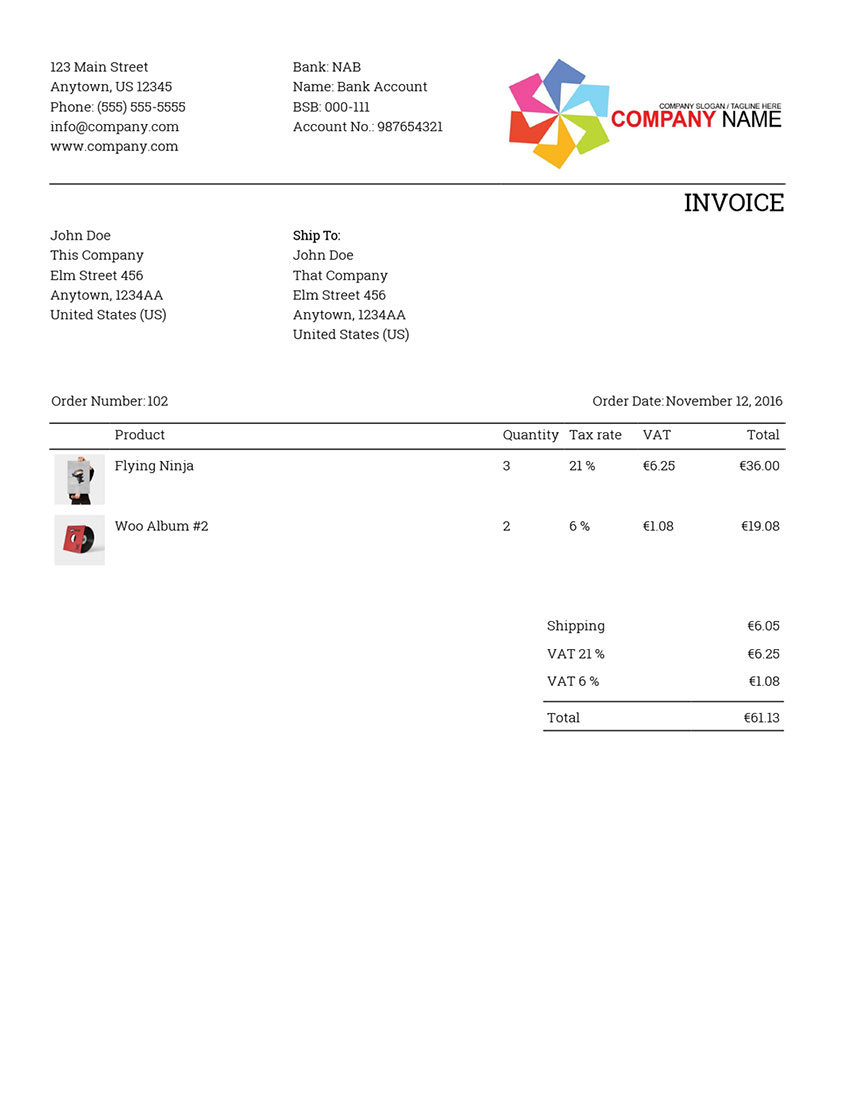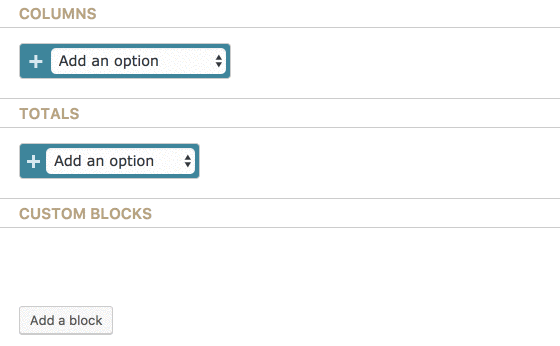 Reviews
I can highly recommend anyone to download this plugin. It works perfectly and the developers are very willing to help you out when you need any assistance. Thank you so much guys! I highly appreciate it.
The plugin is user friendly, affordable and well maintained. It gives loads of options and flexibility to make great invoices. I recommend to buy the package deal which covers all needs.
In case of problems installing or using the plugin, support is always quick and professional.
I just wanted to remake the default template without any hard steps, and this plugin did the thing! It saved so much time that you can't even imagine.
Support from the developer is even better, quick and helpful. I recommend it to all of you!
I've tried several Invoices plugins for woocommerce and I must say that Wpovernight's plugin is the best by far. It is simple, easy to configure and FREE:
https://es.wordpress.org/plugins/woocommerce-pdf-invoices-packing-slips/
After a time using it, I decided to buy these templates to look more professional and I can't be more happy. Also very easy to set up.
Apart from that, the support received is OUTSTANDING, just give a try and you'll be for sure surprised.
It would be great if they had more time to develop more plugins, they are all great!
Good job!
You must log in and be a buyer of this download to submit a review.