This extension supercharges our free WooCommerce PDF Invoices & Packing Slips plugin with the following features:
Email/print/download PDF Credit Notes & Proforma Invoices
Give custom titles & filenames to the PDF document
Send out order notification emails (with or without PDF documents) to specified email addresses (suppliers,warehouse managers etc) at specific order statuses.
Export PDF documents in bulk by date range + status (save as ZIP with individual files or to Dropbox)
Attach up to 3 static files (for example a terms & conditions document) to the WooCommerce emails of your choice.
Use separate numbering systems and/or format for proforma invoices and credit notes or utilize the main invoice numbering system
Customize the shipping & billing address format to include additional custom fields, font sizes etc. without the need to create a custom template.
Use the plugin in multilingual WPML and Polylang setups
Save all the invoices conveniently in your Dropbox. All you have to do is activate the plugin, authorize with Dropbox (which takes just 2 clicks) and the invoices will be uploaded automatically. You can choose between uploading all documents that are emailed (to the shop admin or the customer) or uploading the PDF files separately based on the order status, or a combination of both. Additionally, you can export invoices and packing slips directly from the WooCommerce order listing in bulk.
This extension is fully compatible with both our premium templates.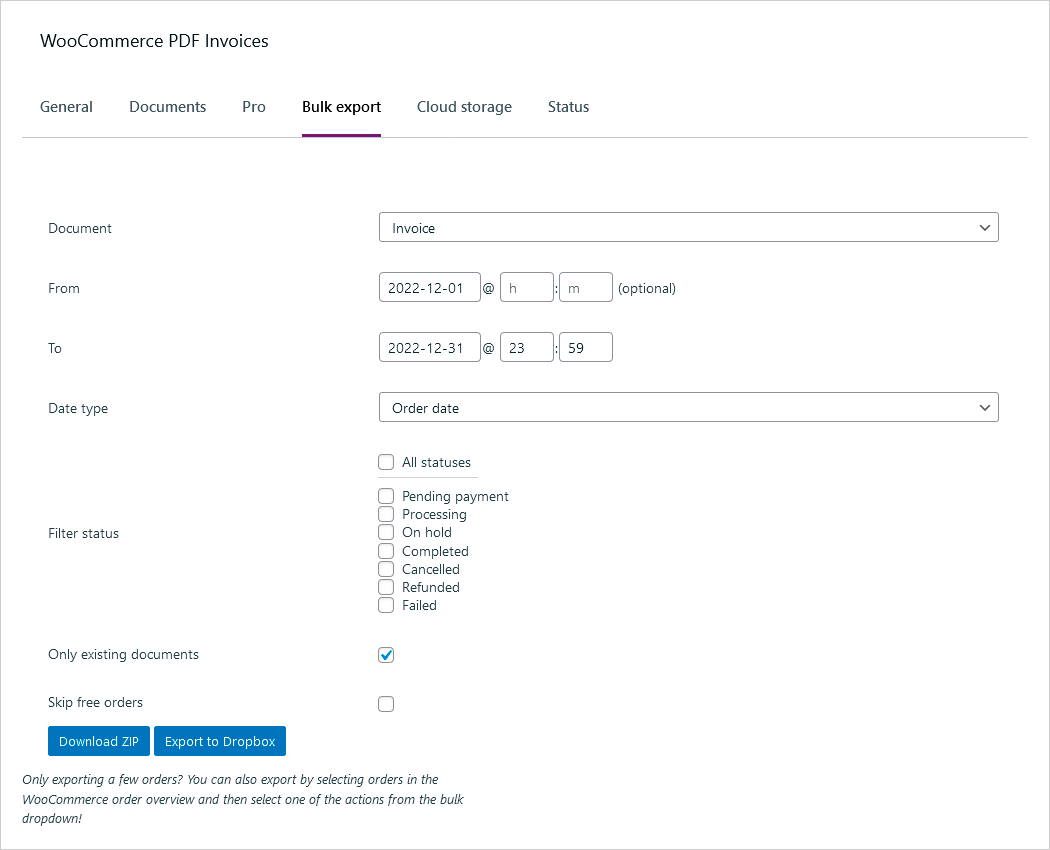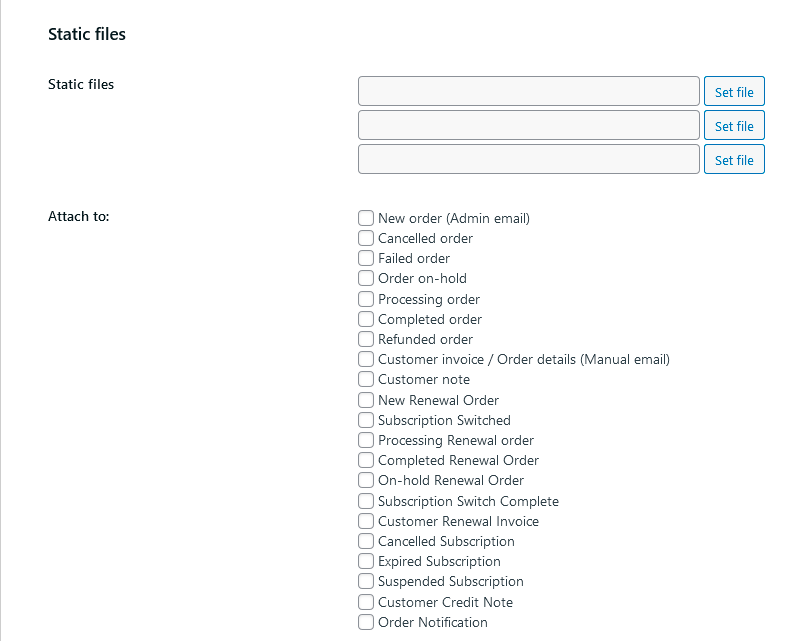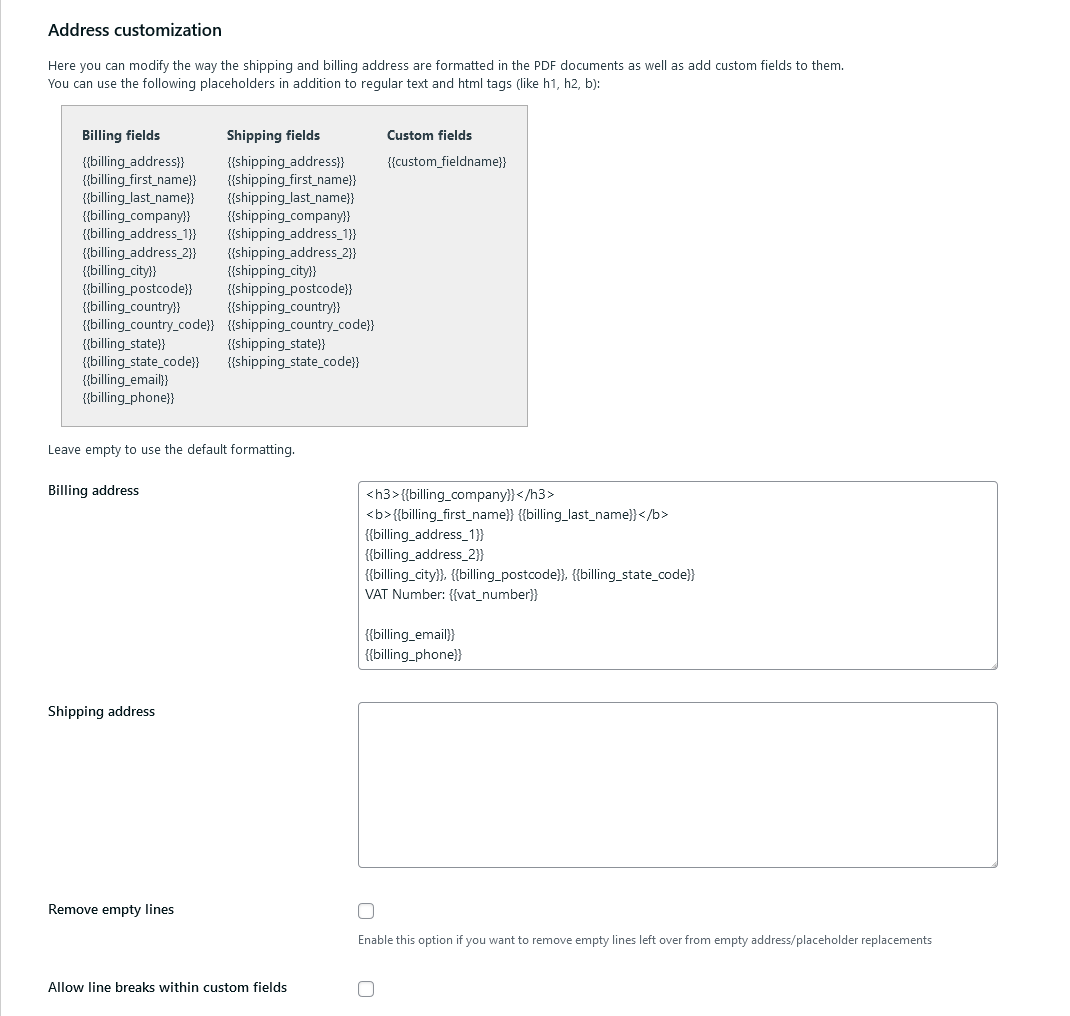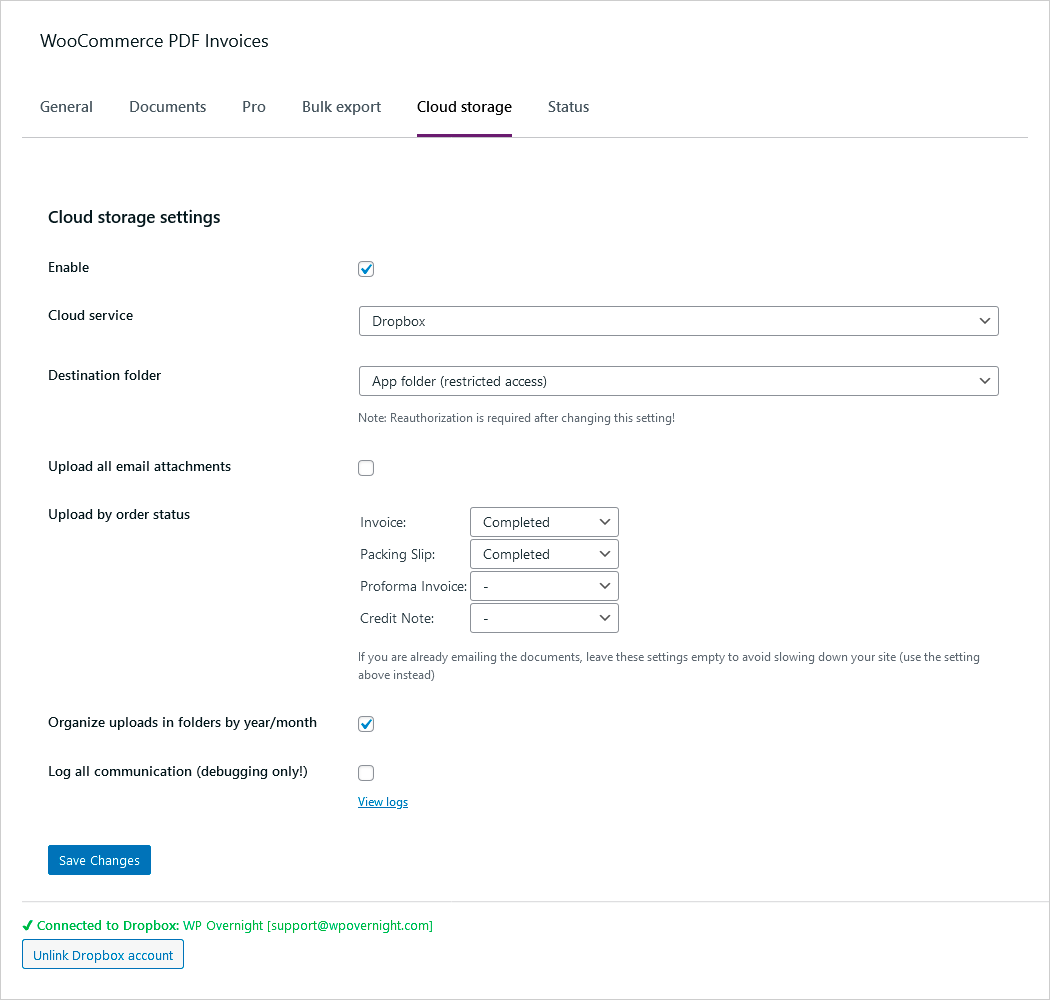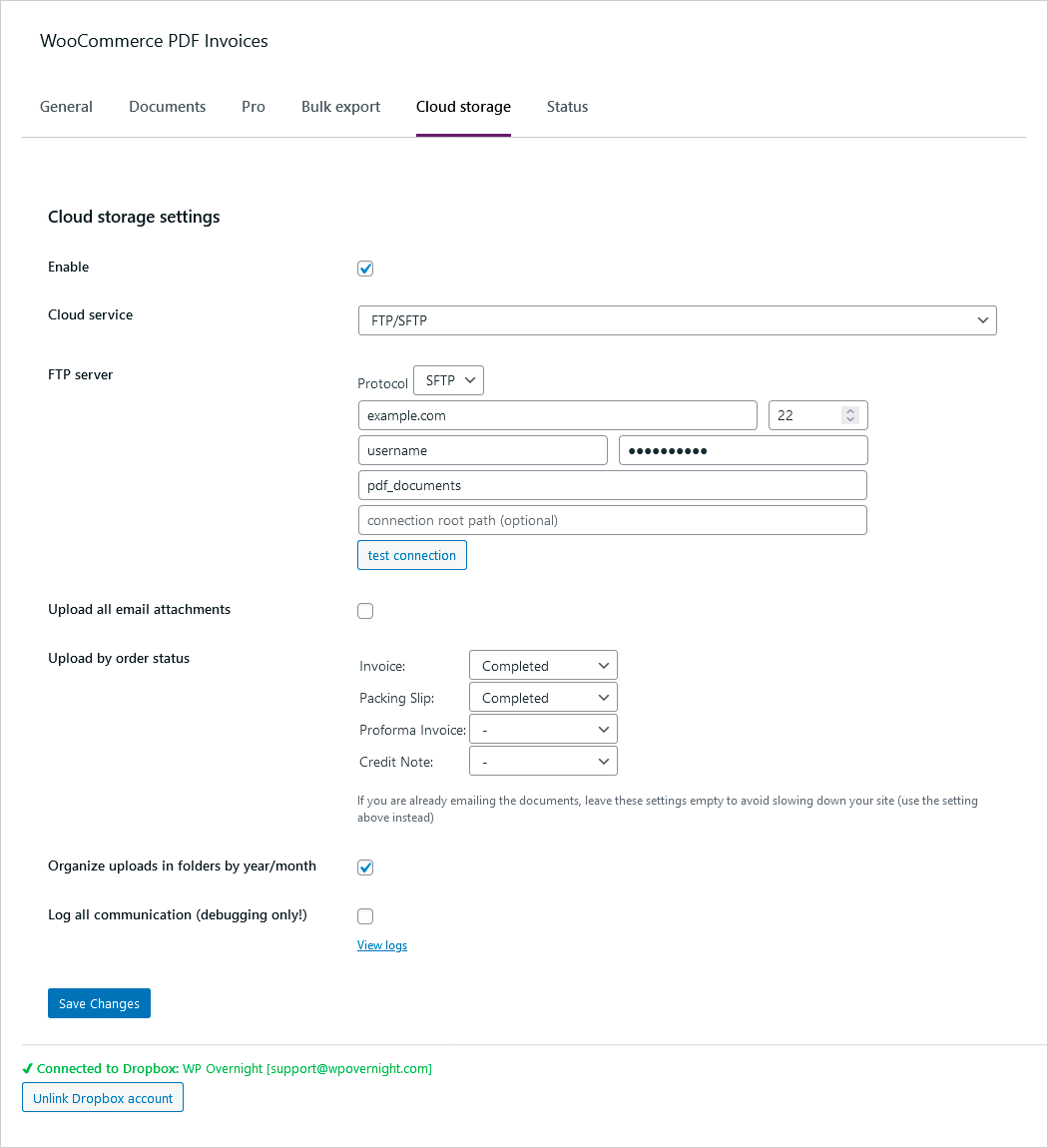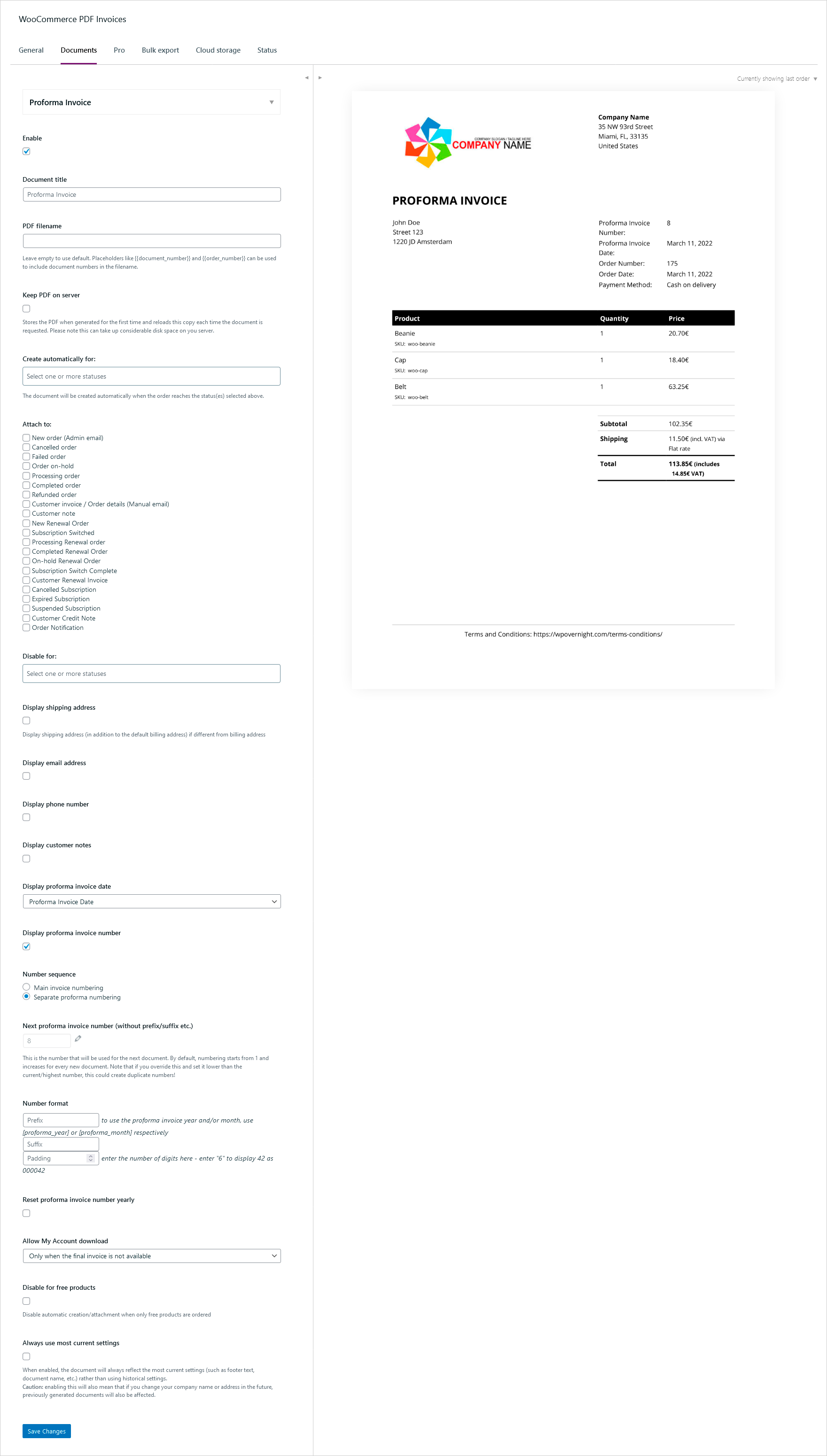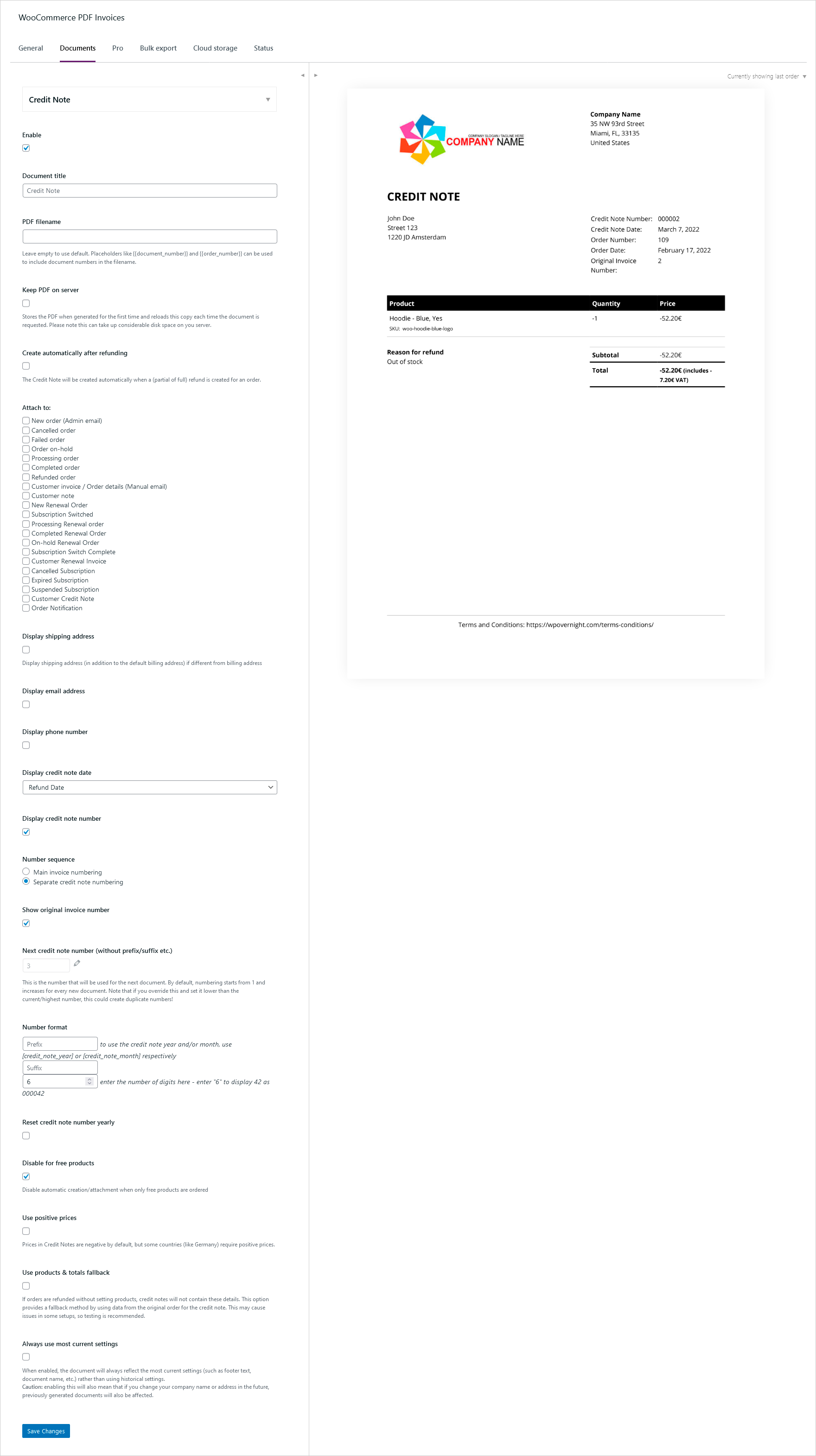 Advanced address formatting
Proforma Invoice settings
Reviews
This is a great plugin. It is easily customized, and the invoice it generates looks great. I love the ability to download the invoice from the dashboard. Customer facing, it is a much better solution than them having to print off their WooCommerce email for documentation.
Basic customization was easy, because of the wealth of knowledge that can be found in the support documentation on the developer's website as well as all the information found in the support section of WordPress.org.
Lastly, I can't say enough about the customer and technical support. Yordan is a wizard! Thank you so much!!!
So I bought the PRO version and now I can! ?
The plugin works great and the support was very quick and helpful. Thank you!
This plugin allows me to run a fully branded store, down to the font used in my invoices and I absolutely LOVE it! Fantastic work, keep it up.
El plugin funciona correctamente y el soporte estupendo. Cuando las cosas se hacen bien hay que decirlo.
It does exactly what is says and it is perfect for any WooCommerce shop out there.
And the support from the developers are outstanding, can't be more happy. They are fast and patient and fixes the issues promtly. Will indeed keep on supporting them and buy more plugins from them.
It's months I postpone the day in which I would manually produce and sento to my customers all their invoices. Simply because I hate to deal with boring stuff!
And, puff, magic! I have not to deal with invoices anymore!! As soon as I mark a order as completed, the plugin does everything for me: it produces the invoice, sends it to the customer and uploads it to my Dropbox, ready to be sent to my tax consultant at the end of the year.
With really a small investment, you spare a lot of time and money! And you can keep enjoying what you love!
Last but not least: I needed to personalize a little the plugin and I found the best customer suport ever! Ewout is very kind and amazingly fast in answering to emails and solving my problems.
Amazing investment, buy with confindence!
Diego
Zeer vriendelijke en behulpzame medewerker.
Het product : plugin WooCommerce PDF Invoices & Packing Slips Professional, werkt simpel en perfect.
Support team reageert snel
We have been using this plugin for several years now on a few different websites and have always been pleased with the results and the great level of support.
We would recommend this product above others as never come across any issues that cant be resolved by a very well supported product. When running an ecommerce website it is paramount there is good support behind it.
WP Overnight know how to treat their customers and offer a great product along with a superb support service.
Thank you
Using the plugin for 3 years. Just renewed for another year. Ewout always there for a support and to solve the custom requests!
We needed a few more items printed on our customer invoice, but had no idea how to go about fixing that. We emailed Ewout with our request/ideas and he was more than happy to help. Within a few emails back and forth and a few different fix options, we had our problem solved! We now have exactly what we were looking for on our customer invoicing. The invoices look very professional – clean, straight forward and are tailored exactly to our needs. This plugin comes highly recommended. Very user friendly with top-notch tech support. Thank-you 🙂
Maybe my request was simple, I had some code ready, but Ewout answered me in about 30 minutes. The information he gave me led me to all my goals in about 20 minutes of customising, without the need for follow-up.
Im kind of astounded…
Hit a real problem with the upload, (me having a senior moment) not a fualt with the programme and it was solved in record time
Excellent service
This plugin runs simply as expected. Good work. Thank you.
If you ask me, I will tell you that this plugin is the best ever, it gives your store a professional look and makes you look more serious than you could be.
I will be going for the advanced in a short while.
Hi, just believe me when I tell you that I am pretty savvy to php and fairly equipped to do most things with HTML and CSS too… but when it came to some of the more tricky parts of implementing this plugin for my solution I was delighted to work with Ewout – who I consider a genius level php coding wiz. He has literally saved my bacon — and in record time. I was literally losing sleep over this project, and now I am feeling a little silly for doing that… Now… I feel so confident now that I can use many of the plugins here and know that required support will be happily (and skillfully) applied — and for the BEST part…. at a very reasonable rate. I will certainly be back to use more products and services soon. As I expand operations using WordPress I know I can count on this provider for all my needs. So sweet to find such competence… and although nearly halfway around the planet, it feels as close as next door! Wonderful!!!
Great plugin! Needed some extra details on the invoice and thanks to the help of Ewout it wasn't a problem. Thanks for the extra lines of code and the great support once again!
This plug is the best plug-in that I've used. Simple to configure and rich of feature. Also the developer is very fantastic if you need an help or a new feature. Then if you need a plug-in for invoices for me this is the only choice.
I bought this Plugin, but needed an extra feature. I wrote an mail to the guys and they fixed it very fast. Im so happy now! Very fantastic guys thanks a lot! Now i can directly print my PDF over the WooCommerce Shop and i looks soooooo nice 😉
Great plugin, easy to use and setup. I also experienced great customer service with my request for a customised template. Would highly recommend.
Really great plugin! Especially the customizer functionality is very nice. This makes it very flexible to build your invoice.
Also customizing layouts is pretty easy by copying the template to your theme folder and edit it as desired.
This plugin beats all competition. Thanks for creating this plugin!
I was looking for a solution to send invoices only to B2B customers, and not B2C customers. This plugin does absolutely that almost out of the box. With the help of documentation and incredible support I was able to customise the plugin to match our needs exactly.
Support gave quick and helpful replies to all of my questions. Can recommend!
This plugin is just what I needed. Clear design and easy to modify. Highly recommended. Thanks for the great support!
Made my first WordPress Webshop & without any knowledge, this plug-in does all it needs to do!
When needed, I got support right away.
Thank you!
This plugin is just awesome. Tested, approved, such a huge gain of time. The support is really good.
I tried a few PDF invoice plugins before purchasing this one, and this is by far the best in terms of design and function.
The support is great too!
Been using this for about 7 months now. Time I said how glad I was that I found it. I only need the packing slips from it, but it work brilliantly.
When we had a sudden spike in orders a few months back I contact for support on exporting all the packing slips to a directory and had excellent support for this custom need.
Free is great by itself, but having superb support was worth paying for. Saved me days of work.
It is so refreshing to get a nice clean plugin that works the way it is promoted. As soon as we need to use the advanced features of PDF Invoices & Packing Slips Pro, you know I'm going to get it. I also know at least one other site that could really use this plugin. I will be recommending you.
It is so nice not to get constant "nagware" from a free plugin. I had to really look to find a link to this site. Thanks for not bombarding future customers with "buy me" links. It is appreciated.
Cheers,
Markus
I like so much It's really usefull with my business manager
You must log in and be a buyer of this download to submit a review.