WooCommerce Print Address Labels is an extension that allows you to print out shipping / address labels from your WooCommerce orders. Simply select them in the WooCommerce orders dashboard, select "Print Address Labels" from the bulk actions and hit Apply. Customization of the address labels (logo's, extra order info etc.) is easy with the provided HTML templates.
Supports both label printers (for example Zebra, Dymo*, Brother QL-570/QL-710/QL-1060N* and many more) and regular printers, as long as you can print to these printers from the browser!
Main features:
Print address labels on (avery) sheets or on label printers in bulk.
Full control over page layout: page size & orientation, margins, number of rows/colums on the label sheets.
Choose your own font from 33 top Google fonts.
Modify label content/style easily (address formatting, order number, phone number, returns address, etc) as well as formatting (size, font size).
Additional customization of the labels possible with advanced templating engine
Skip labels to continue printing where you left off printing on the label sheet the last time you printed (interactive popup).
Compatible with WooCommerce Subscriptions
Compatible with Woothemes Multiple Shipping Addresses
Compatible with WooCommerce Memberships
Compatible with WC Vendors
* support for the Brother label printers in Firefox on a mac is limited. Other browsers (including Firefox in Windows) are fully supported with this model!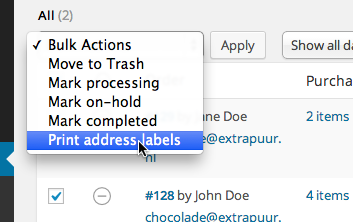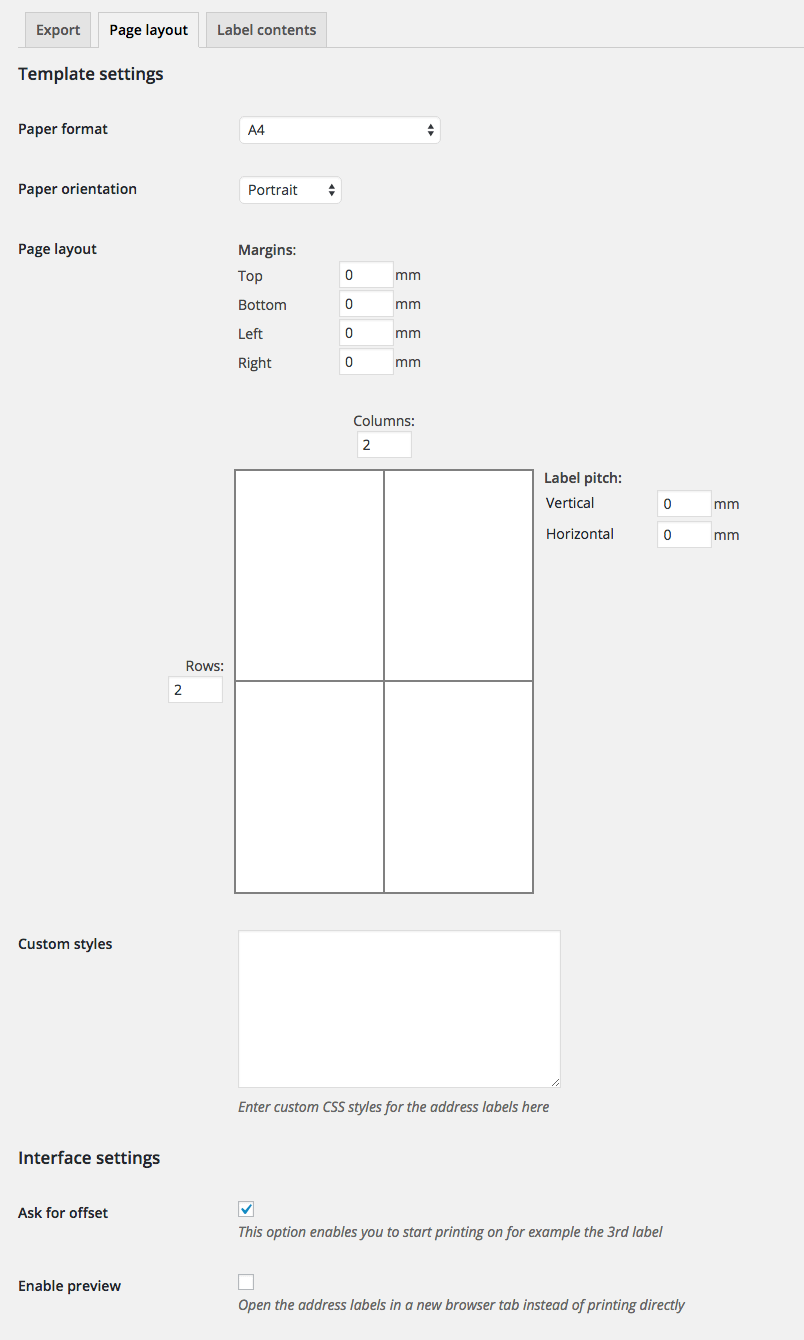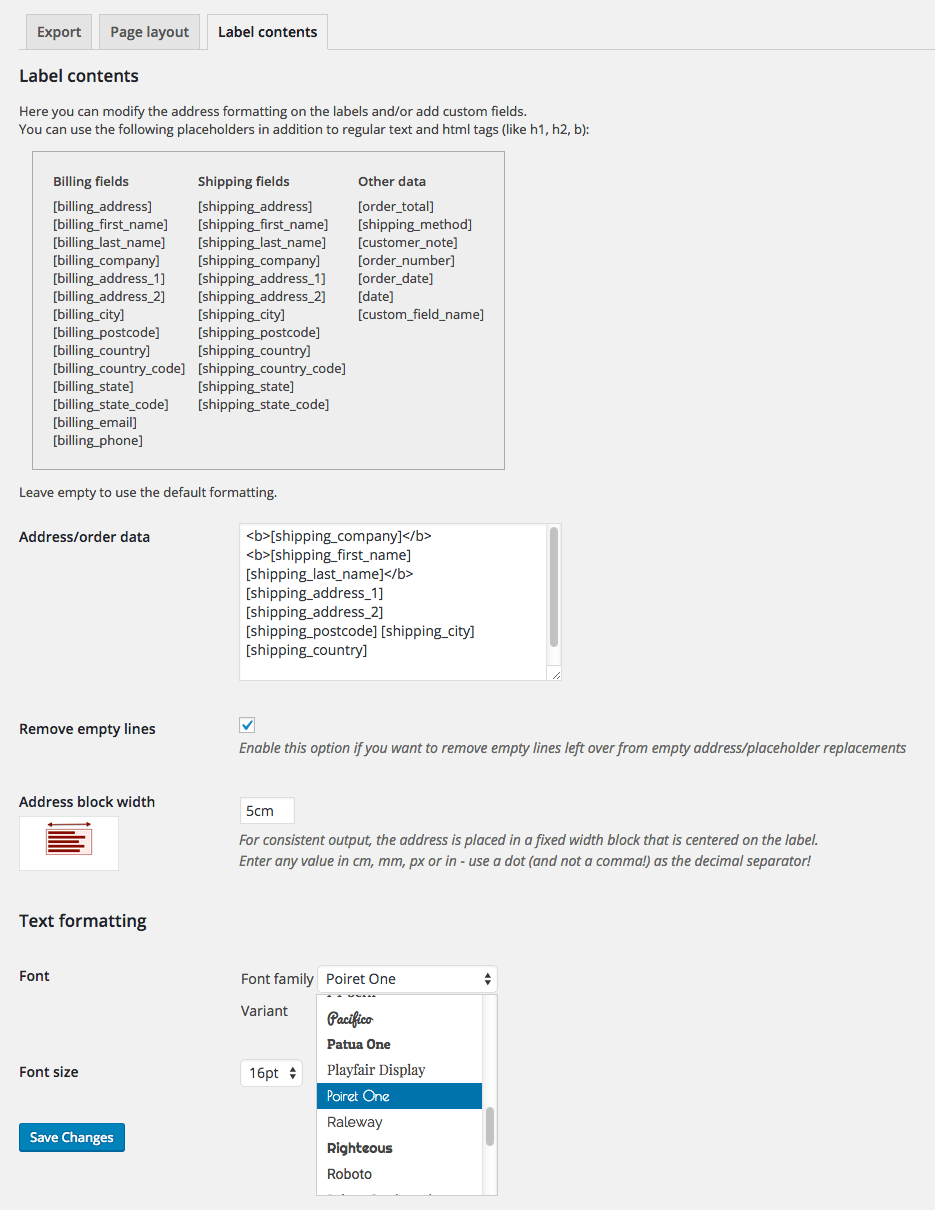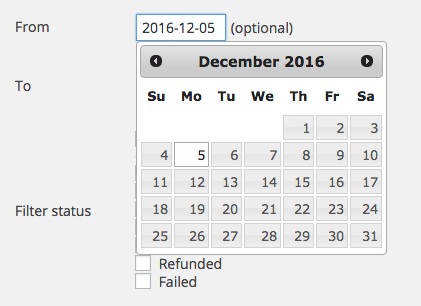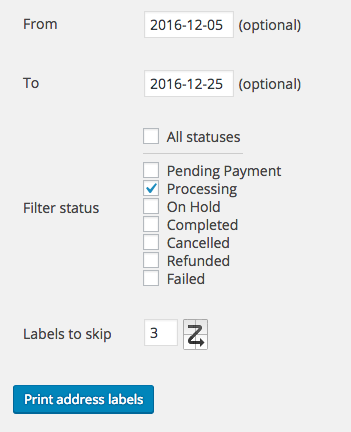 woocommerce-address-labels-bulk-actions
WooCommerce Address Labels Page Layout Settings
WooCommerce Address Labels Label Content Settings
WooCommerce Address Labels Export By Date
WooCommerce Address Labels Export By Status
Reviews
Also perfect for x-mas Cookies to send to my Customer 😉
Needed a plugin to allow us to print address labels from WordPress orders with a Brother Ql-810W printer. Tried a different plugin previously but didn't have the functionality we required. The WP Overnight support team have been simply outstanding in their response to help. Our needs ended up being quite complex but they were able to assist with setup and even some custom code to make the plugin do exactly what we needed. Some of the best support service I've ever received. A pleasure to deal with. If you need an address label plugin, get this one. You'll not be dissapointed.
Works exactly as advertised, customer service went to great lengths to help me get set up!
New to running my own WooCommerce store. Needed a solution to easily print address on Avery label sheets that have been sitting in my drawer for years. This plugin is PERFECT. The documentation was crystal clear and made the setup process a breeze. I was thrilled to discover that I can easily offset labels for situations when I don't have a full sheet. I just love how simple yet robust this plugin is. Thank you very much!
This plugin has helped me tremendously. The customer support was exceptional helping to tweak the plugin and make it work perfectly for my needs.
Thank you for a great product, highly recommended and very robust.
I researched many address label plugins on the market. Decided to get this plugin for my 2 sites and I never regretted.
Couldn't be happier with their support!
Instructions:
1) Run to shop and buy a small Brother label printer, then install it.
2) Install this plug in.
3) Spits out address labels!
Easily inside dashboard print just the one address you need,
-or tic off the ones you need to print many!
! tip!: Add a dummy customer to print labels with return address, customs info, etc..
I use 62x100mm labels (quite large).
Super-duper plug in! I never looked back!
Brilliant plugin. Does exactly what our clients want it to do. The customisation is flexible, and actually creating the labels is very straightforward for the admin users too!
Great work!
I purchased this plugin 3 days ago and wanted some major customization done and i am NOT capable to do this. I contacted the Ewout and he did all my changes without any hassle in under an hour..
I will definitely be watching for any other plugins that they may sell as the support and service is above and beyond.
Great plugin will save me so much time and frustration from copying and pasting my labels.
Now if only i could hire him full time for all my other coding issues i have !!
I bought the plugin and it meets all my needs to print labels for my orders.
I even had a little customization to make and the customer department solve my problem in minutes.
Great job!
Thanks
As far as Woo plugins go, this is exactly what I expect: it works without any pain, fuss, hacking or pulling of hair.
In less than 5 minutes of setup, I had my first label printed.
With the amount of time I'm going to save by not having to manually transcribe order information, this plugin is going to pay for itself several times over.
Well worth the $19!
This plugin really saves A LOT OF TIME. Now i can finally drop my word template and a lot of copy paste.
You can also define on what label to start printing so the same paper can be reused.
And the support is awesome. Got my question answered within a couple of minutes.
This plugin have saved me a ton of time. It is very simple to use and does the job well. We use it with the QL-570 label printer to print the shipping addresses without any problems whatsoever.
I had a few technical questions and my queries were dealt with very quickly and in a professional manner.
Top job guys and i'll sure be back for more plugins!
Excellent but simple plugin!
Work exactly like what I'm looking for.
Simple setup although i'm not really a IT guy.
And the support from Ewout is just prompt and effective.
Thanks! And everybody just purchase with confidence!
The plugin "WooCommerce Print Address Labels" saves TIME. It works as stated and developer solves any doubt immediately. 100% recommended.
James
–
El plugin "WooCommerce Print Address Labels" ahorra TIEMPO. Funciona tal y como se indica en la descripción y el desarrollador te resuelve cualquier duda inmediatamente. 100% recomendado.
Jaime
You must log in and be a buyer of this download to submit a review.