WooCommerce Print Order List is an extension that allows you to print a list of all your WooCommerce orders. Simply select them in the WooCommerce orders dashboard, select "Print order list" from the bulk actions and hit Apply, or export a date range with specific statuses from the export page. You can change the contents of the order list via the settings page, and for even more control you can customize the order list template (HTML/CSS/simple PHP based) to your wishes. In addition to the list of orders, you can also print a summary or all products and quantities, which makes it possible to use this as a picklist for woocommerce orders!
Main features:
Quickly print out a comprehensive overview of all selected orders
Print a summary of quantities for all products in the order list (to use as a woocommerce order picklist)
Set the order list contents to your wishes (see screenshots below for all settings)
Advanced template customization of the order list is possible with HTML & CSS (+ Simple PHP)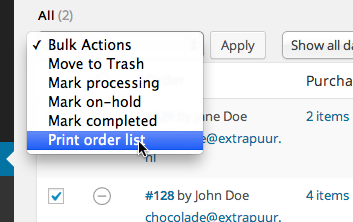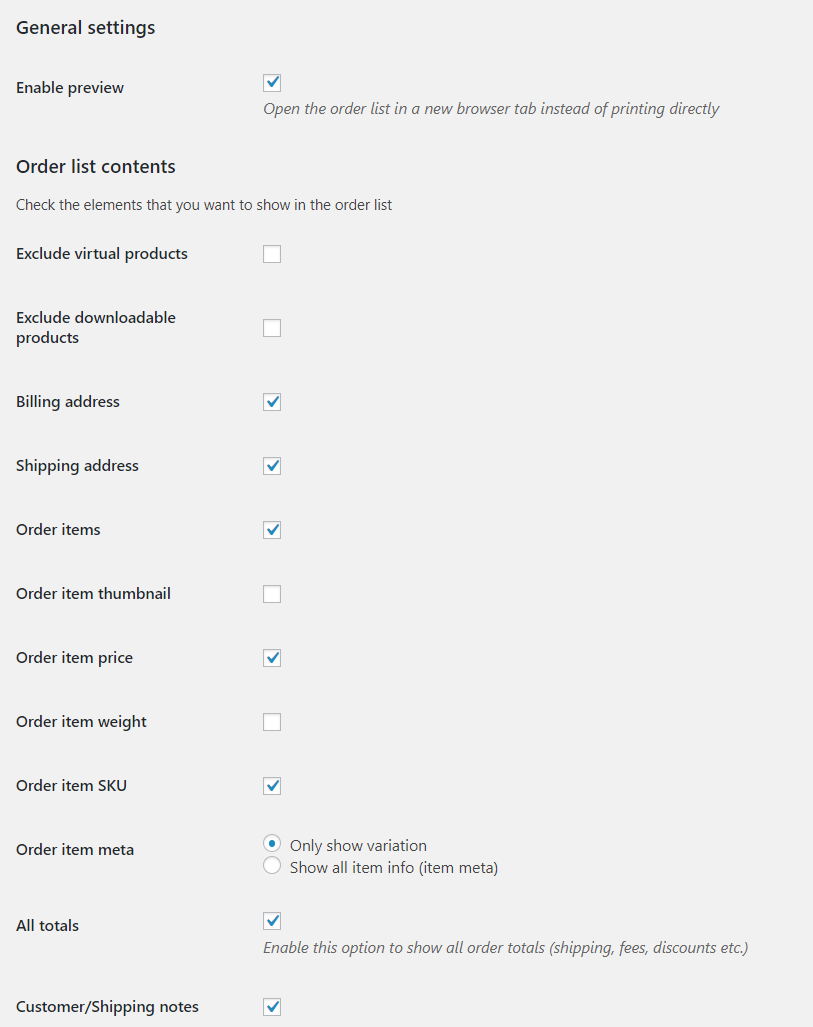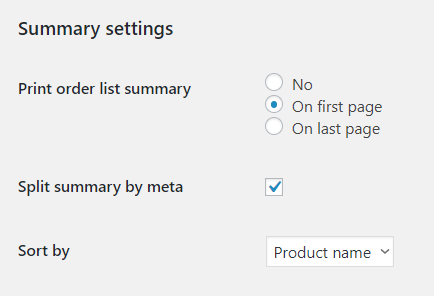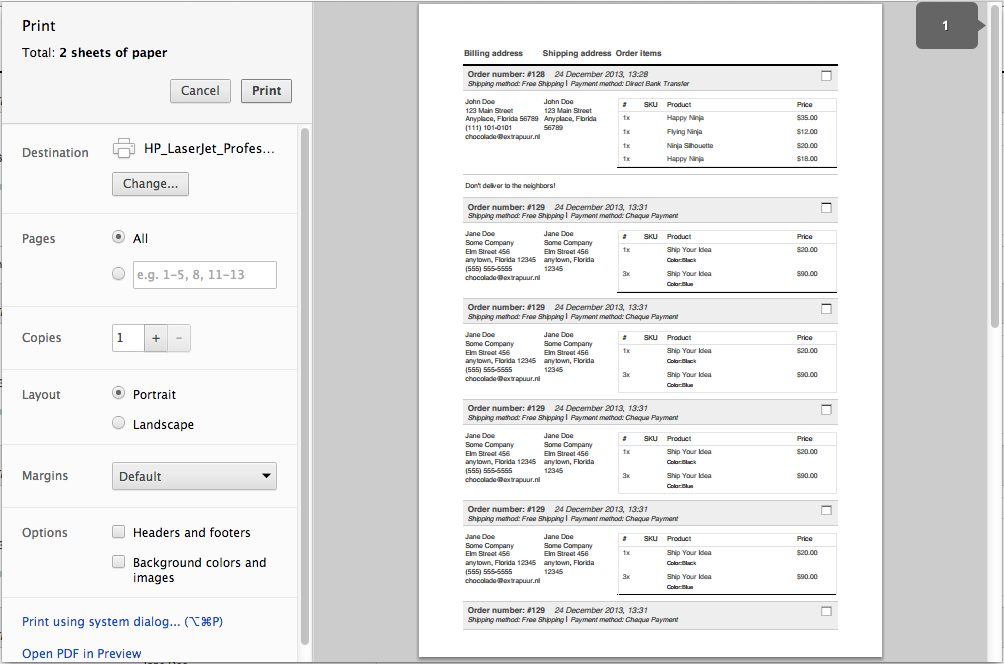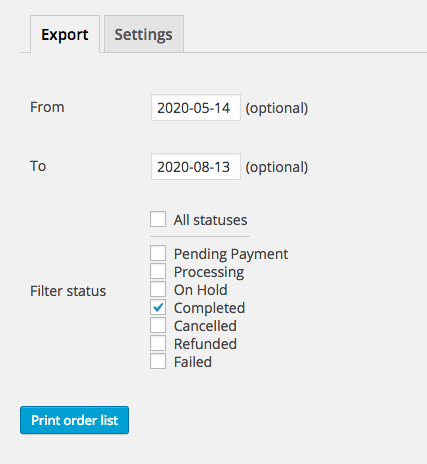 woocommerce-order-list-bulk-actions
woocommerce-order-list-settings
woocommerce-order-list-settings-summary
woocommerce-order-list-print-dialog
woocommerce-order-list-item
WooCommerce Order List export page
Reviews
After endless hours of looking for a solution, I found your site. The order list itself looks amazing, it really helps to focus on each item. We needed something to show us what shelf each ordered product was on, and after a very brief conversation with the support team, they helped me with the custom taxonomy we have set for shelves. I could not recommend more, well worth the price just for the speedy technical and customer support. Thank you so much, this plugin has made my life 10x easier!
Actually it is a simple list but it is so useful! Looks very professional, highly customisable & great, fast support!
Very handy to provide to the logistics employee to take care of the shipments of the day!
I use local pickup plus. So I need to print orders that go to specific pickup locations. When I print out the orders it doesn't even show which pickup location each order is from which I need to give to each individual driver.
I feel like everything is there except for some details of an order that is extremely important to someone like me who makes deliveries at 7 different pickup locations, which the customer selects at checkout. In the order prinout it does not show the pickup locations, which is an issue. Why doesn't it give this detail even though it is on the order under Local Pickup?
Plugin is AMAZING help for us.
I have idea for improvement. Is it possible to show coupon name in list? Thx!
Very useful, should be part of woocommerce core
I knew from the start with the quick feedback from the support team (even before purchasing the premium version), that this would be a great plug-in with excellent support. I purchased the Print Order List and ended up also purchasing the Cloud Print Orders! Awesome plug-ins!!! Thanks guys!!!
Works just the way it promsied!
This plugin helps me since a year to manage printing orders. It's trully perfect and Ewout from support is very helpful and supportive.
At the same time simple and options to customise – made our packing process very simple by printing out a consolidated list with only essential information for the warehouse (customer name, products with qty and variation)
Ewout replied immediately to our request for a plugin tweak and met our needs 100%.
Consider him an invaluable member of your team!
Great Plugin and did some customisation and work was quick and very professional. Well done and recommended
Incredibly useful plugin which we use for two purposes: 1) Printing lists of selected order details to send to the workshop. 2) Generating a pick list for packing up these orders. The developer has customised this for me so I can group my picklists by primary product category which works perfectly. Thanks!
I noticed that Paypal and Stripe fees were in custom fields in my WooCommerce orders, but I could not find a report anywhere that I could use for my accounting records and for filling the order.
The plug-in author worked with me until those fees printed on the reports! Getting a custom field to show up was beyond my limited programming skills.
Now I can print all the Paypal orders, then select and print all the Stripe orders. Fill the orders. And then staple everything together with the Deposit printout from Quickbooks with the total adjusted by the amount of the merchant fees. Nice and neat without the extra steps of looking up how much the fees were for each order.
I am thrilled! Thanks.
Very well made and thought out plugin. So much customization is possible and the plugin developer is very responsive. There are even check boxes for each order so the person doing pick-and-pack can keep track of what has been done and what is remaining. Lots of additional settings can be done thanks to filters and hooks. A+ plugin and developer, highly recommended.
I've been looking for a plugin like this for a log time, and it does exactly what i want it to do, it can print a detailed list of how many of one item i need to pick for several orders, saving me paper and a lot of time, so for me this was money well spent
this plugin is very useful and pretty simple to use!
Posted an upgrade question and got the answer in few hours.
Thank you guys!
This plugin is GOLD. A super useful plugin that I am sooooooo glad I found.
SUPER useful plugin, and great new features keep being added.
This has saved me hours of work, thank you!
You must log in and be a buyer of this download to submit a review.