This WooCommerce Extension allows you to automatically send scheduled reminder emails (payment reminders, follow up emails asking for a review) to your customers based on specific rules you create.
For example, you can send a payment reminder email if an order is still on-hold/pending payment 5 days after the order has been placed for a specific payment method.
Advanced filtering even allows you to add more rules for specific products, minimum order amounts etc. The possibilities are virtually endless!
Main features:
Automatically schedule/send email reminders for WooCommerce orders (like payment reminders or follow ups) after a specified number of minutes/hours/days/weekdays/weeks/months
Change order status after sending email (optional)
Set up CC and/or BCC for each email to keep track of them.
Rich text editor for the email text, including placeholders for data from the order (name, order total, etc)
Emails use WooCommerce email template for optimum compatibility
Configure the exact requirements for sending an email (time after order, order status, payment method, shipping method, products and/or product category in the order)
Full integration with the free WooCommerce PDF Invoices & Packing Slips and our premium extensions.
Fully WPML Compatible – emails will be automatically sent in the order language.
If you have any questions, do not hesitate to contact us via support@wpovernight.com.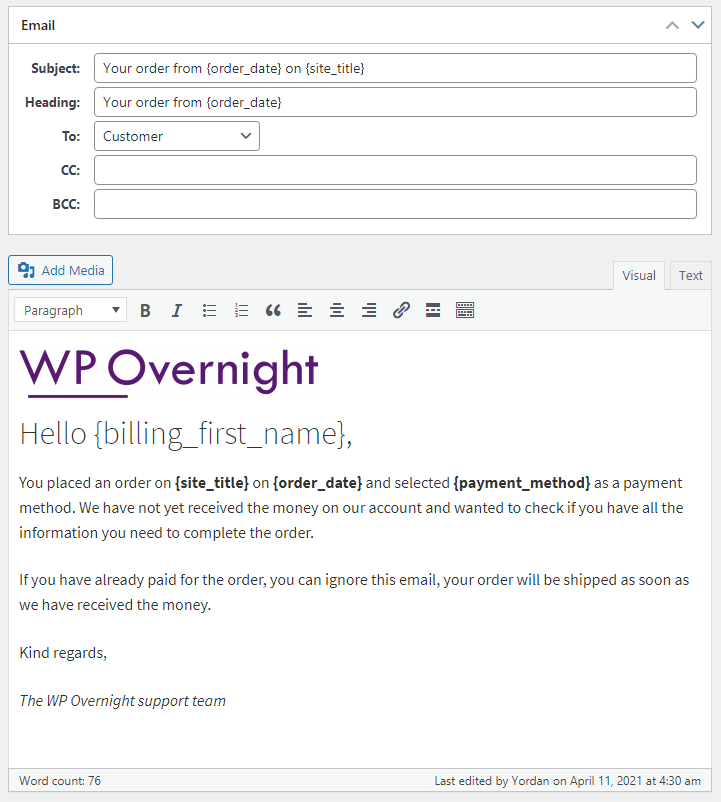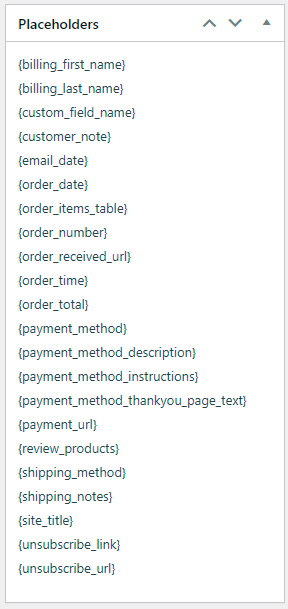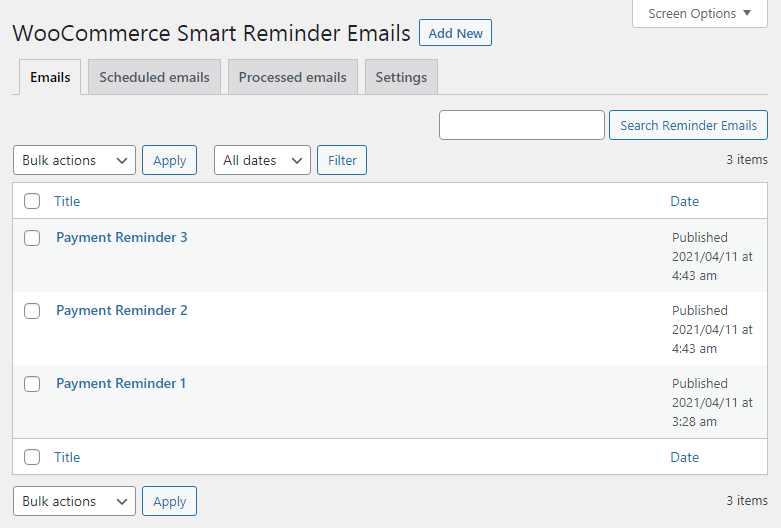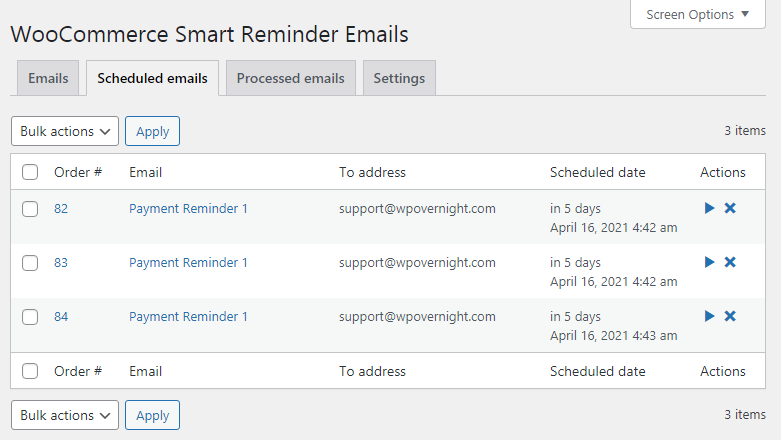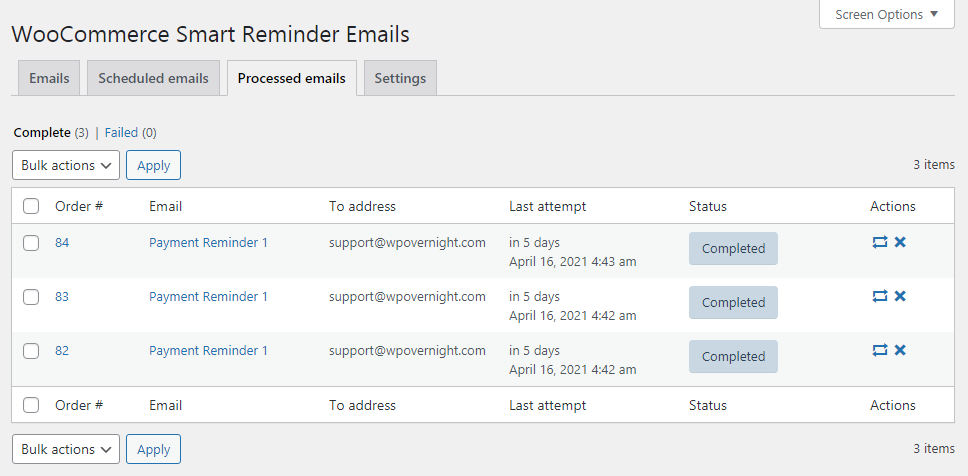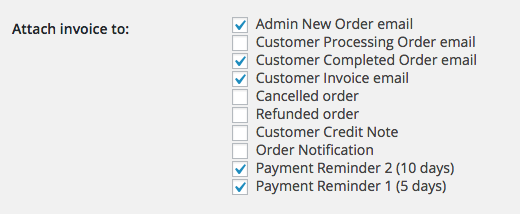 Overview of reminder emails
Scheduled reminder emails
Reminder Emails PDF Invoice attachment
Reviews
I've updated my review. Support took a couple of days, but was worth the wait. Although the plugin is for orders and not subscriptions, Mohamad and Alexandre went above and beyond to answer my questions, as well as providing an additional code snippet. So excellent support.
The plugin offers the ability to drill right down to different variations and products, which makes it incredibly useful. It was a little tricky to understand the options at first, but we were able to achieve what we needed. We were able to easily embed custom fields into the emails, which was useful for us. We will be sticking with this plugin for the long-term.
Bought it because basically it's the only plugin to send review reminders which is actually validated by WPML. Also used is for payment reminders bank payments.
fyi set-up i noticed it is essential you write the reminder in the default language and then duplicate to otehr langauges
my 1st attempt was wrong when i wrote it in english (although my default is german) and then duplicated. that way was wrong. it should be
write in default language + then duplicate.
Tricky to handle (understand how to use it)
Great plugin! remind my customers to pay their order, and follow up for repurchase, ask for review, etc.
With added conditions/order requirement that can make the email more targeted. love it!
Support is also very helpful!
This plugin is just what we needed. It does what it says and even a bit more.
The support is quick and informative.
Thank you so much.
This is a very helpful plug-in, that saves lots of hours – for us. Suggestion: It would make this enormous plug-in even perfect, if the lines background colour in sales overview would change to (example) green (if order is payed), pink (if payment reminder #1 is sent), orange (if payment reminder #2 is sent) and red (if payment reminder #1 is sent).
Thank you very much!
Hi,
Glad to see the plugin does the job for me!
Easy to install and configure…
Perfect support!!
Thank you very much.
Serge
You must log in and be a buyer of this download to submit a review.