If you're looking for some info about the best WordPress hosting then you've come to the right place. Having gone through multiple web hosts, we can really only recommend one: Lightning Base.  Here's why:
When wpovernight.com was first launched we were using a Virtual Private Server (VPS) from a well-known and popular webhost which will remain unnamed. I kept having issues with the VPS (downtime, slow response times, etc) and the only response they could give me was that I needed to optimize the site to reduce server load. I did my best to optimize the site, boosted my payment to $40/month in an attempt to get a little more juice, and still struggled to maintain a consistent and reasonable page load speed.
The final straw came when this host's servers crashed and were down for 12 straight hours. I'd had enough. I began shopping around for WordPress specific hosting and settled on Lightning Base for three reasons: 1. Their price, 2. Their customer service and last but not least, 3. Their Performance.
Price
At an introductory price of $9.95/month, Lightning Base is the only service that even sounds reasonable to those of us used to $5/month shared hosting. All the other top WordPress hosting company's start at $24, $25 or $29/month.
Customer Service
The primary reason I went with Lightning Base was their customer service. When I contacted them inquiring about their services they responded almost instantly. The other companies I spoke with took days to respond and by the time one of them had responded I was already working with Lightning Base. When it came to moving everything over, they offered to do it all for me. Being busy (and getting the service for free) I said yes. In total I had 5 WordPress installs and they handled all of them for me (note: I did not start at the $9.95 package). There was a slight hiccup with some DNS stuff (but that was the fault of the previous hosting company), a slight issue with email that they quickly resolved, and a slight issue with my SSL certificate (that was also quickly resolved). During the whole process, I kept feeling like their service was too inexpensive for the quality of service I was receiving. I guess where other WordPress hosts are offering $100's for their affiliate program, Lightning Base has chosen to put that time and effort into higher quality service.
Performance
Finally, the last reason I love Lightning Base (and I had to wait a couple weeks after signing up to find this out) is their awesome performance. A few weeks prior to ending my relationship with the previous Webhost I started tracking downtime, and response times using Pingdom. Below is a graph that shows response time before, and after switching to Lightning Base.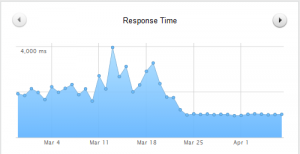 As you'll notice, average response time dropped in half, and I no longer had giant spikes and dips like before. My response time became smooth, consistent, and pretty darn good.Furthermore, my outages decreased significantly. Excluding the major twelve hour breakdown my uptime had been something like 99.5%. Not terrible, but not really great, when you consider that means 3.5 hours/month of downtime. With Lightning Base we experience about 3 minutes/month of downtime, and that just means that the Pingdom server wasn't able to ping the site that particular time. There's a variety of reasons why that could happen.
Conclusion
Needless to say, we're pretty darn pleased with Lightning Base. It's a great product at a great price with a great team making it all happen. If you're looking at giving WordPress managed hosting a try, look no further. Click here to check it out now. Plus, we'll get a little money back from our own hosting if you do. 🙂